Todays post is for all my beautiful followers who want to have beautiful feet. Try these homemade foot scrub recipes when you don't have time for a pedicure.
A foot scrub gently exfoliates and softens  tired tootsies.
If you have a recipe that you would like to share, be sure to post it below in the comments area.  If you try one of the recipes, be sure to  let us know which foot scrub you tried.  Here's to your beautiful feet, naturally!
Beautiful Feet Naturally – Foot Scrub Recipes
Organic Citrus Foot Scrub
I had to share this DIY Organic Citrus Scrub from Sugar & Cloth.  A scrub I haven't tried myself yet but I have to!  It looks so beautifully fresh and sweet.  Definitely at the top of my list to try.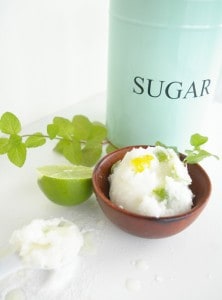 1 Small Lemon
1 Small Lime
1 Cup Pure Cane Sugar
1/2 Cup Coconut Oil
1 Teaspoon Peppermint Essential Oil/Extract
Mint Leaves, lemon & lime peels (optional)
Combine the oil and all of the moist ingredients, then add the sugar and lemon and lime peels as a garnish, then stir.
Strawberry Foot Scrub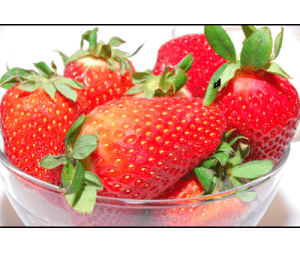 6 strawberries
2 tbs olive oil
1 tsp sea salt
Mash strawberries. Combine all 3 ingredients into a paste, massage well onto pre-soaked feet, then rinse and dry.
Honey and Sugar Foot Scrub
I love this Honey & Sugar Foot Scrub from Design Sponge.   I haven't tried this one but the foot scrub recipe is super simple and I can't wait to try it!!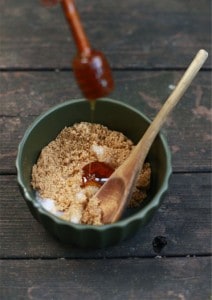 1/4 cup brown sugar
2 Tablespoons coconut oil
2 Tablespoons honey
3 drops peppermint essential oil
Combine all of the ingredients in a small mixing bowl. Stir to fully combine.
Using firm strokes, massage the scrub into your feet. Rinse off with warm water and dry feet completely with a towel.
Save any unused portion in a lidded container and use within one month.
Coconut Lime Sugar Foot Scrub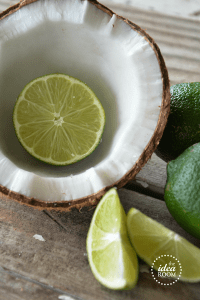 Amy Huntley from The Idea Room shared this Coconut Lime Sugar Scrub on Mother's Day.
I love Amy's site and she has so may great sugar scrubs.
Be sure to check out her blog for the recipe and let me know if you try it.
It's for sure next on my list.  Thanks Amy!!
Photo credit:  The Idea Room
Honey and Vanilla Foot Scrub
1 cup honey
5-6 drops of vanilla
1 /2 cup brown sugar
2 drops almond oil
Combine all ingredients into a glass container and mix thoroughly.  Let the mixure sit in the fridge for a minimum of 2 hours before you use it. Massage or scrub in a circular motion for 4-5 minutes to remove dry skin.  You can also leave on your feet over night, be sur to cover your tootsies with plastic or an old pair of socks.
Aromatic Coffee Foot Scrub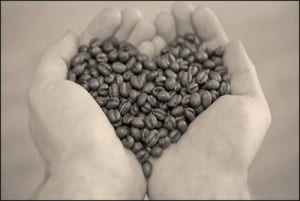 4 tablespoons ground coffee
3 tablesppons corn meal or ground oatmeal
3 tablespoons sea salt
3 tablespoons almond oil OR olive oil
2 drops lavender oil
Mix all ingregdients together.
This scrub has super amazing exfoliating properties.
Your tootsies will be super soft and smell delicous!!
Pumpkin Foot Scrub
1/4 cup of brown sugar
1 tablespoon ground coffee beans
Mix all ingredients in a bowl.  Scrub your tootsies paying special attention to your heals.  Rinse with warm water.  Tip:  You can store in a glass jar in your fridge for a few days.