Don't have time to stop in for a pedicure and want to have your toes looking sexy? Painting our  toenails is a lot easier than painting our fingernails – both of our hands are free!  Follow these simple pedicure tips and you will have perfectly sexy painted toes.   Be sure to let me know if these pedicure tips help.
If you can make time for some pampering, check out this post:  Benefits of a Professional Pedicure
Pedicure Tips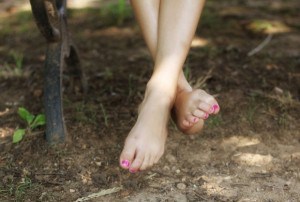 My top pedicure tip:  be sure to buy good nail polish.  This is huge, a cheaper nail polish is difficult to use and you will not get the results you are wanting.
Ok, let's get this pedicure tips party started.
Remove your old polish. Before you do anything, remove any and all polish from your toes.  Please don't paint over an old pedicure, it's never a good idea.  Can't get into those hard to reach places – try a q-tip dipped in polish remover.
GENTLY buff the tops of the nails.  Your toe nails are never as smooth as your fingernails and for a good reason.  Your toes are tucked inside of socks and shoes and they are always rubbing on something.  So use a nail buffer to smooth down any ridges or grooves.  Gentle buffing will also help remove reside from an old pedicure and will help your new pedicure last longer.
Shape,  file and clip.  The general rule is to leave about  1/16 of an inch of your nail extending from the nail bed. Shapes are a personal preference.  You can do square edges or round edges.  No pointed nails, girls…these can break easily … although they could come in handy if you want to hurt someone – tee hee.
Wash up. Residue from polish remover can actually make your new coat of nail polish bubble later on…so be sure to take a few minutes to make sure your nails are clean and dry.
Push back those cuticles.  Gently with a cuticle stick!!!  Cuticle creams help, for sure…but make sure to wipe off any cream that gets onto your nails.
Apply a base Coat. If you are looking for a natural look, this would be your last step.
Pick your color – my favourite step!!!  Give color a chance!!  it is a huge factor in how you feel about your toes and really it is so much fun.  Try something new!
It's time!!  Let's paint them. Girls….slow, even brush strokes.  You've  taken your time up until –  don't start rushing now.  Take your time and paint a light, thin layer.  Let this coat DRY – 10 minutes.
Second coat – you're almost done. Remember  same as last time slow, even brush strokes.  The second coat always seems to be more stressful than the first.  Never good at coloring?  If you go outside the lines (hahaha) just take a cuticle stick or a q-tip and dip it in some nail poish remover.  Work on the smudge until all evidence is gone.  Wiat 20 minutes before you go onto the next step.
 Top coat. You're almost there.  This is a huge part of any good manicure.  The top coat will preserve your pedicure and will preventing any chipping.  Don't skip this step you've done a lot of hard work to get those toes looking sexy, let's make sure it lasts!  Please, buy a good top coat – don't cheap out …. apply one layer of top coat and I bet you know what I am going to say next….LET IT DRY!
Some more helpful pedicure tips:
Buy good quality products.
Maintain your nails….even when they are not painted.
Bubbling nail polish – makes me NUTS!

Roll the bottle between your palms – don't shake the bottle.
Turn the bottle upside down, then right side up, then upside down slowly until it's mixed.
Sometimes keeping your polish in the fridge will help keep it from seperating.

Find a color that compliments your skin tone.
Find a color that suits the mood you are in.
If you are a Pinterest user, you will love my board "At Home Spa Recipes and Tips".   Be sure to check it out for more pedicure tips.
For  updates, news, pedicure tips,  what's hot, what's not.  Be sure to follow me on Twitter and Facebook.

4x Certified Lash Artist located in Regina, Sk.
Certified: Lavish Lashes, JB Lashes, Volume Lashes.
Specializing in Eyelash Extensions Regina | Lash Artistry

Latest posts by Cindy Grainger (see all)