French manicure is a popular nail service in my Regina Nail Salon.  White nail tips with a natural base is a beautiful look for gel nails and natural nails.  You will see french manicures  as much today as you did in the 1930's…just check out the fingers and toes of high fashion models and popular celebrities.
Photo Credit:  fashionista.com
Can Chanel Make the French Manicure Cool Again?
Is a French Manicure really French?
The debate is…..are French Nails really French?  Some say that the Parisians  were the first to wear this look and others say that Max Factor invented it.
Wherever this look came from,it is a simple yet elegant look.   This is a  look that goes with absolutely anything –  can take you from work,  out for drinks and onto a formal event. Women all over the world still walk into nail salons and ask for this elegant standby.  A french manicure can be done on gel nails, shellac nails and natural nails.  There is a good reason why it is so popular.
Don't get me wrong, I love color.
Color says so much:
Red lips say "daring,"
Little Black dress  "timeless,"
White sundress "fresh."
A French Manicure says:
you are "naturally and effortlessly perfect"
While no one is exactly sure when or where the French manicure was first introduced, there can be no doubt that by the 19th century, the technique was popular in a number of French nail salons.  The style caught the attention of American fashion designers in the early 20th century, leading to the extensive use of the French manicure among the popular actresses of the 1920s.  From there, women all over the United States emulated the technique.  The trend continued well into the 1930s, with many women making the French manicure part of their standard treatment at the local nail salon.
What is a Reverse French Manicure?
A reverse french manicure or a funky french manicure.  Here are some examples of this look.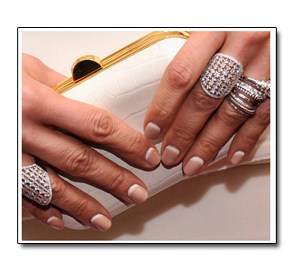 Jennifer Lopez stepped out with this reverse French manicure, with the classic off-white and nude shades reversed.
Photo: Stephen Lovekin/Getty Images
To read more visit Dailymakeover.com
I absolutely love this look.  Polishpedia.com has a video on how you can create this look at home.  Be sure to check out their post on Reverse French Manicure – polishpedia.com
Photo credit:  polishpedia.com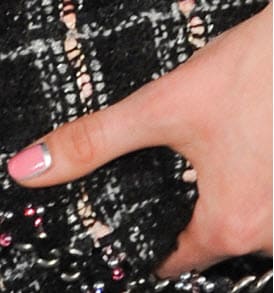 This is another beautiful look.
Read the full post:   Chanel Reveals Couture Nail Art
Photo credit:  fashionista.com
This is another really pretty look.  Be sure to check out  this post on seventeen.com – Get a Reverse French Manicure for Prom.

4x Certified Lash Artist located in Regina, Sk.
Certified: Lavish Lashes, JB Lashes, Volume Lashes.
Specializing in Eyelash Extensions Regina | Lash Artistry

Latest posts by Cindy Grainger (see all)