Today's post is all about nail polish and the most commonly asked questions.
Do all nail polish have chemicals in them?
Yes, they do.  When choosing a nail polish, do some research and try to choose a  "three-free" option.
Is it possible to avoid nails polish without chemicals?  This would be literally impossible to do.  There is no such thing as a chemical-free nail product.  Preservatives keep products from going bad or rancid.
There are common chemicals used in nail polish.
Toluene
DBP (dibutyl phthalate
Formaldehyde
Many companies are moving into  "three-free".  This means that they are creating nail formulations without these common chemicals.  Shellac is "three free" .
Will Dark nail polish discolor my nails.
Wearing dark nail polish can definitely discolor your nails.  Natural nails are porous.  A dark polish has more pigment in it than a lighter polish.   Darker shades  like – black, blue and brown can temporarily stain  the nail plate. Once your nails grow out, the discoloration will be gone.  Always use a base coat before you apply nail polish to avoid staining.  Or…try Shellac.
I've been told I don't need a base coat or a topcoat.
A base and top coat are necessary. If you think of it this way…  base coat is like a primer for  house paint.
A base coat has several functions.  1) a a manicure will last longer  2)  nail polish adhesion is enhanced  3) Ridge filler  4) less staining from a highly pigmented nail color.
A top coat will  add shine and  speed up the drying time.  This is the "finishing touch"….don't skip it.
If I submerge my nail polish in an ice bath.  Will it dry faster?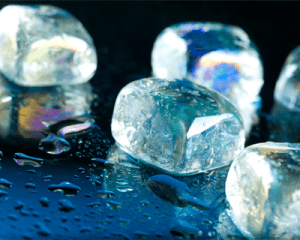 As crazy as it sounds, this is true.  An ice water bath will solidify your nail polish a little faster.
However,  you will find that your nail polish will also chip faster.  Don't be surprised if it chips the following day.
Do nails  breathe?  Do they need a rest?
Technically  speaking,  nails do not breathe.  There is a tiny space between your cuticle and your nail plate.   A good nail technician will leave a space  between nail polish and the cuticle. Covering this area will slow nail growth and will make the cuticle dry.
Should I store nail polish in the fridge?  Will it last longer?
If you aren't using your polish on a daily basis, you can store it in the fridge.  If you are storing your nail polish in the fridge, be sure to letit return to room temperature before you use it.
If you are looking to increase the shelf life of your nail polish – make sure the bottle is resealed properly.  Please please, do not add polish remover  to the nail polish.  Adding polish remover will turn  a quality nail polish  into a useless nail polish.
So, tell me….how often do you change your nail polish?
[SURVEYS 1]
For more hints and tips about nail care be sure to visit my board:  Regina Nails Pinterest.

4x Certified Lash Artist located in Regina, Sk.
Certified: Lavish Lashes, JB Lashes, Volume Lashes.
Specializing in Eyelash Extensions Regina | Lash Artistry

Latest posts by Cindy Grainger (see all)