A nail polish birthday party theme is such a cute idea.  I had so much fun with this post.  Darn I miss the days when my girls were little.  I do not know of any little girl who doesn't love nail polish. Todays post was written with love for all the little divias who love Nails Regina.  This post includes:  Nail Polish Birthday Party Tips,  Nail Polish Birthday Party Checklist, Party Invitations, Ideas for games and goody bags.  Oh! and don't forget about the cake!!
Having a nail polish birthday birthday party is a perfect way for your little diva to celebrate her special day. I am so excited to hear if you enjoyed this post.  If you have any other thoughts please post them below.
Nail Polish Birthday Party Tips:
Cover your table with disposable plastic tablecloths.
The Dollar Store is a great place to pick up basics for your Nail Polish Party.

Polish removers, Nail Polish, Nail Files, Cotton Balls, Glass Jars.

It's always  fun to have some Nail Art Glitter and Rhinestones.
Make sure to have lots of ventilation in the room. Fans will definitely help.
Have several disposable cameras placed around the room.  Let them capture their fun day!  Have them take pictures of each other painting their nails and having fun!
Nail Polish Birthday Party Checklist:
Nail polish remover
Cotton balls
Nail stickers, jewels, rhinstones, glitter
Pointed qtips or orange sticks to correct mistakes
Towels
A selection of nail polishes.
Base Coat and Top Coat.
Party bags – you wouldn't want your guests to go home empty handed now, would you!
Food for a Nail Polish Birthday Party
Remember, their nails might be wet.
Trays of healthy snack foods
Fresh Fruit.  How about a chocolate fountain to go with that fruit and marshmallows to dip.
Cold Finger Sandwiches. Serve cold sandwiches cut into small pieces: chicken, cucumber, tomato, turkey ham, lettuce, etc.
Crackers and Cheese are always a good choice.  Don't forget the pickles!
Cucumber & Carrot. Serve cucumber and carrot sticks – eat it with dips.
Lemon or Orange Water: Add slices of lemon or orange to a pitcher along with ice.
Funky Punch: Slice some oranges and add some cherries and mix with frozen cranberry juice and soda. Decorate the top of the glasses with sugar (as margaritas).
Natural Juice 
Nail Polish Birthday Party Invitations
Wording:
"Name is invited to Cindy's Polish Themed Birthday Party!
Which will take place the "date & time" until "time".
To RSVP please call "number" by "date"."
Be sure to :
Get permission from each little diva's mom – to paint her nails.
Ask all your guests to dress comfortably.
Tell each guest that they should wear clothes that won't be ruined if they get stained with lotion, polish remover or polish….just in case.
Ask each of your guests to remove any nail polish before coming to the party.
The Invitation:
Get pink invitation paper and envelopes.  Print using a silver font.  I used to love adding glitter or confetti inside the envelope (actually I still do this).  I love it when the glitter spills out when opened….I tell all my little divas that it's Tinkerbell Dust.  Give your invitation a little spray with perfume.
I had to share this one.  So cute!!!
How to make your own nail polish birthday party invitations.
This is such a fun site:  MendMyInsanity.  Kendra has step by step instructions on how to make these invitations…it looks pretty easy.  Be sure to check it out.
Photo credit:  Crazy Kendra, MendMyInsanity
Not brave enought to try making your own?  There are a lot of sites where you can order nail polish birthday invitations.  This one is beyond cute!!  I want to have a party for me and send these out.
These and many other nail polish birthday invitations can be ordered from: Zazzle.com  
Picture credit:  Zazzle.co
Nail Polish Birthday Party Games
I've put together a few nail polish games that you could play at your party and let each little diva paint her nails.
Spin the Nail Polish Bottle Game
Be sure to purchase bright, fun and colorful nail polish for this game. Have all the little divas sit in a circle.  Sitting at a table is the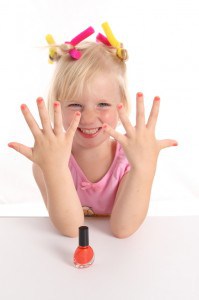 easiest. Place the basket full of nail  polish in the middle of the table. The birthday girl starts this game. First she takes a bottle of nail polish out of the basket and spins it.  When the bottle stops spinning…the girl who the nail polish lid is point to, must paint one of her nails in that color.  This little diva selects another polish from the basket and spins again.
The little diva to have all her nails painted wins the game.
Don't stop the game until everyone has her nails painted.  Continue the game by painting toes too!
Hot Polish
A classic at birthday parties – hot potato.
Instead of a potato, use a bottle of nail polish.  Be sure it is sealed tightly before you start. The little diva holding the nail polish when the music stops is out of the  game. The last player remaining wins the bottle of nail polish.
Sophie from Sophies World has an awesome post on how to play hot potato.  Simply substitute a bottle of nail polish for the potato.  Enjoy!!!
Photo credit:  Sophies World
Pin the lid on the Nail Polish
Pin the tail on the donkey,  I used to love that game when I was a little.
For a polish themed birthday party ..how about pin the lid on the nail polish
Draw a large picture of a nail polish bottle on a poster board.  Print several  nail polish lids.  Write each girls name on the nail polish lid. Blindfold each girl and have her try to pin the lid on the  correct spot on the bottle.   Don't forget a prize for the little diva who gets the closest.
Check out this post for How to Play Pin the Tail on the Donkey – don't pin nail polish lids on the donkey, although that might be fun….tee hee
Nail Polish Memory Game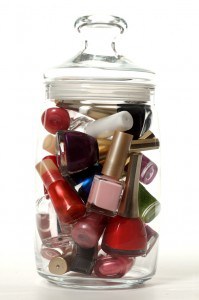 Place nail polish bottles on a tray.  Place the tray in front of the little divas.  Take the nail polish tray out of the room and remove one nail polish.  Bring it back and the little diva who can tell you which color is missing, wins a prize.
Read more:  Nail Polish Party Games | eHow http://www.ehow.com/info_12123513_nail-polish-party-games.html#ixzz2U92KUjKS
How to Design Nail Games for Girls
This is a super cool online nail design game.  Allows little divas to experiment with different nail polish colors, patterns and stickers. Log on to AMP GAMES and type "Nail Art Salon" into the search tool bar on  the right side of the page or PLAY GAME NOW.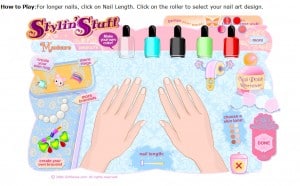 Read more:  How to Design Nail Games for Girls | eHow http://www.ehow.com/how_8326656_design-nail-games-girls.html#ixzz2UB8UJWbo
Goody Bag and Party Favor Ideas:
A pretty  basket to hold the party favors tied with a pink ribbon.
Goody bags – tie it all up in a wash cloth or a cute bag finished with curly bows and tissue paper.
Shimmering Lip Gloss
Bracelets  – I love the idea of a BFF bracelet
Pencil/pens/notebooks
Tattoos (2+)
Fancy Hair Bows
Decorative Nail Polish
Nail art stickers/decals
Nail File
Candy (lollipop, tootsie rolls, bubble gum etc.)
Inexpensive colorful flip flops
Body glitter
Lotions
Pretty combs
Hair Ribbons
Small scented candles
Colorful makeup bags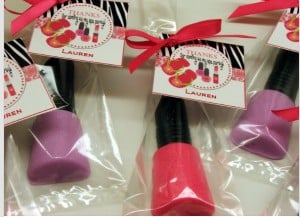 Super cute party favors.  These are actually soaps.
Check out Sweet Body Soaps on Etsy
Photocredit: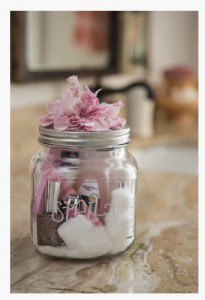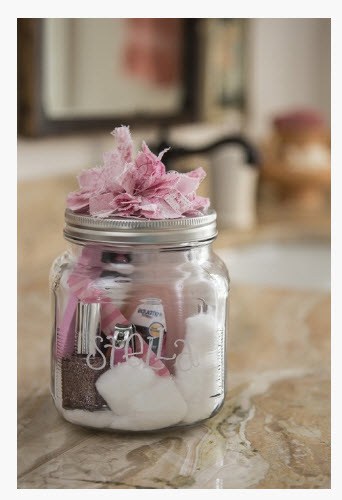 Another really cute idea for party favors.   Manicure in a jar.  I totally love this.  Found it on Pinterest!!
Nail Polish Birthday Cake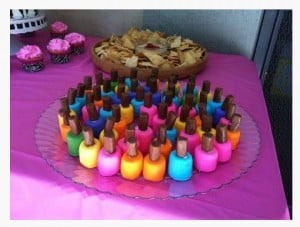 Seriously!!  How cute is this??
Here are the instructions on how to make these nail polish bites.
Photocredit:  http://pinterest.com/hirasa/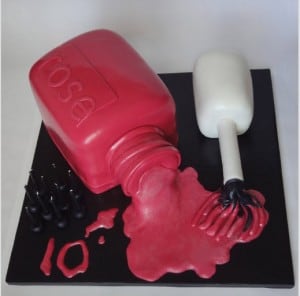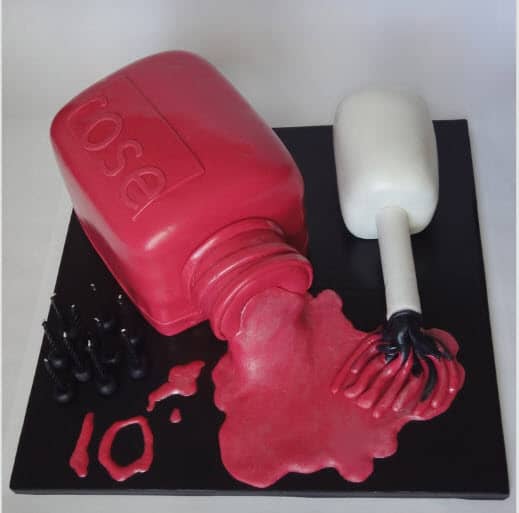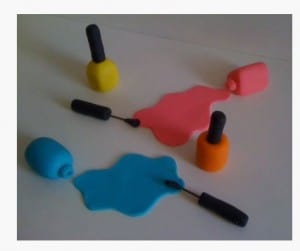 Cake toppers by CrumbyArt on Etsy
Photocredit:  http://www.etsy.com/people/CrumbyArt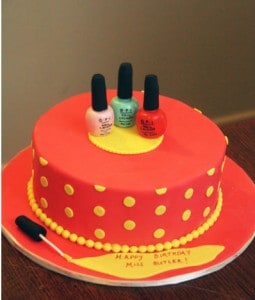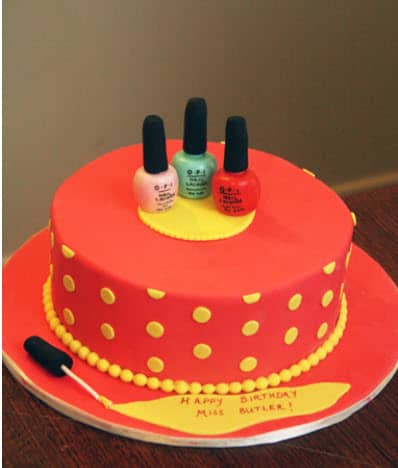 Photo credit and instructions on how to make this adorable nail polish cake:  http://bronniebakes.com/2012/05/16/how-to-make-a-nail-polish-cake/
Make a Nail Polish Bottle Cake Pop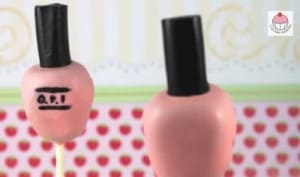 This are super cute for a birthday parth.
Learn how to make these super easy little OPI nail polish bottle cake pops for the little divas.  Here is the link to the video:  http://www.youtube.com/watch?v=3fCH0X9knL8
Photo credit:  http://www.cupcakeaddiction.com.au/
Cute ideas:
Edible necklaces and bracelets
I thought this was so cute.  Edible Jewellery.  Sit back and watch those little girls and their creativity.
Try the Edible necklaces and bracelets recipe
Flip Flops Snacks
I found this adorable idea and picture on snackpicks.com.  Be sure to visit this site for more super cool ideas.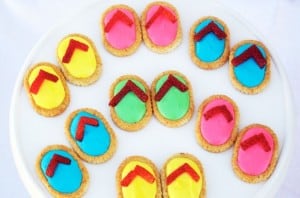 4 ounces reduced-fat cream cheese, softened
1 cup marshmallow creme
Food coloring
48 Keebler® Town House Toppers®Original Crackers
8 to 10 large strawberries

4x Certified Lash Artist located in Regina, Sk.
Certified: Lavish Lashes, JB Lashes, Volume Lashes.
Specializing in Eyelash Extensions Regina | Lash Artistry

Latest posts by Cindy Grainger (see all)