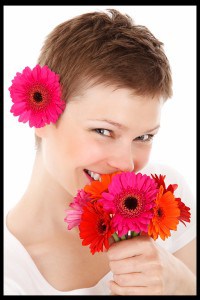 Teeth Whitening– First impressions are everything.  When someone meets you for the first time, they notice your smile.  Having discoloured teeth can cause feelings of embarrassment.
Don't hide your smile!! 
In one session you will see dramatic and long lasting results.
UPDATE:    As of Octoer 2015, I am no longer offering any type of teeth whitening services.  Thank you to all my clients for supporting me through all the years.
Does it really work?  Don't take my word for it, check out the testimonials from Regina clients, below.
Teeth Whitening Regina – Cindy Grainger – 1st Certified Pearl Technician!
Teeth Whitening Regina – Testimonials
This is an actual picture of Angela, from Regina Saskatchewan.  These are her results after 1 hour.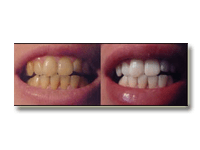 Angela A – Teeth Whitening Regina – Testimonial
"Thank you somuch for the great job you did on my teeth.  They feel so much better and look so white. It was a totally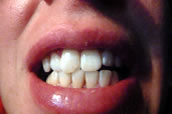 comfortable and painless experience. I definitely would not hesitate to get it done again and I recommend everyone to try it. One hour is all it took and the results were excellent.  Well worth the money. Thanx again! "
Elaine Z – Teeth Whitening Regina Testimonial 
"Thanks Cindy for the great service and what a noticeable difference! "
"I thought about getting my teeth whitened, at the dentist's office, but it was such an expensive procedure. I have tried the Crest Whitestrips and only used them for 3 days. I had to stop because my teeth are so sensitive.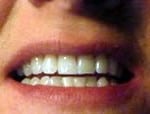 Through a friend, I found out about Cindy's whitening system and after chatting with Cindy and expressing my concerns, I decided to try it.
I was so impressed with the results and it never even affected my sensitivity. It was a painless and comfortable procedure. Cindy was very knowledgeable about this system and she was constantly checking to make sure there was no discomfort. The best part of all it only took 1 hour of my time and the price was right.
My teeth are sparkling white with no sensitivity–give it a try you won't be disappointed.
Lynn M – Teeth Whitening Regina – Testimonial 
"Words can hardly express my gratitude and satisfaction!"
I had  just begun thinking of the appearance of my teeth when Cindy told me about her new offering. She was so enthusiastic and promised it would not damage my tooth enamel or hurt, and on impulse I booked an appointment. It was everything she promised and more.
My teeth had yellowed off the chart as I love coffee & tea and am a smoker. According to the chart, my teeth lightened 9 plus shades while my daughter, Cindy and I watched. It was amazing!
Cindy is so caring and professional making you feel totally in control and pampered.
Elaine C – Teeth Whitening Regina – Testimonial
"I have a brighter smile, thanks to Cindy's teeth whitening procedure."
Cindy worked diligently to ensure I obtained the maximum benefit from the procedure and did not incur any damage to my gums. I found the procedure painless, despite not being able to talk for an hour!
For the investment of time and money, I am very pleased with the results.
Kathy G – Teeth Whitening Regina – Testimonial
"The difference in my teeth color is fantastic!"
It's great because prior to that I bought so many products that came with such great promises and the products and promises ended up in my garbage can.
BUT, this teeth whitening really had me stressed. My teeth are very sensitive. I tried whitening strips and took them off immediately. Ouchhh!!! Gels even more painful. I had my teeth whitened at the dentist and yes they looked great but the pain, the pain killers, the cost:would I do it again? The memory of pain is still too fresh in my mind to think about it.
So, when you told me about your teeth whitening, was very, very hesitant. It was only because I trust you Cindy that I took the plunge and agreed. My hands were clenched and my body in alert mode just waiting for that zing of pain to start. And it didn't! I didn't feel anything! It was pleasant! And such a great price!
Do you think it's negligent driving to have one eye on the road and the other looking into the rear-view mirror to keep looking at my teeth?
Colleen R – Regina Teeth Whitening – Testimonial
"Wow!  I was absolutely amazed, my teeth whitened 7 shades whiter."
I actually look younger. When I was out that evening someone commented that I had nice teeth. I was shocked! No one has ever said something like that before about my teeth!
The procedure was done in  a relaxing, friendly environment. I was in control. It was easy, painless and Cindy was there every step of the way, making sure that I was comfortable and at ease. Very professional and a completely pleasant experience.
Cindy has done it again, brought a service to Regina, for her clients that actually does what it says it is going to do.  Thank you Cindy, I will definitely use this service again, and recommend this to others.
Meg B – Teeth Whitening Regina – Testimonial
"I haven't seen my teeth this white for years."
I have to say, I was not expecting the results I got. My teeth came out about 6 shades whiter. It was actually fun to see the results happening literally before my eyes, and the end result was well worth the short time invested.
Looking for special offers and discounts?
 Visit my Facebook Page