Waxing will remove unwanted hair from areas of your body.  I use professional techniques and skin sensitive wax.  I'm proud to provide you with a clean, smooth waxing experience.  I specialize in:
face
bikini
underarms
back and tummy
UPDATE:    As of Octoer 2015, I am no longer offering any type of waxing services.  Thank you to all my clients for supporting me through all the years.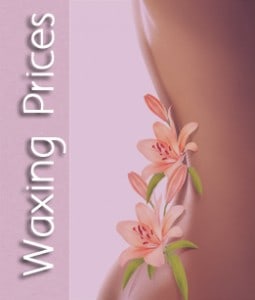 Brow Sculpting / Brow Design   n/a
Maintenance Brow Wax   n/a
Upper Lip   n/a
Chin   n/a
Combination Waxing: Brow, Lip & Chin   n/a
Sides of Face    n/a
Under Arm   n/a
Bikini Line   n/a
Abdomen   n/a
.
Waxing Questions
Q.  Can Teens enjoy waxing?
A.  Unwanted hair is not just a condition that adults are concerned about. Many teens suffer from the embarrassment of unwanted facial, arm or body hair, as well. Waxing is a solution that will help your teen eliminate the worry, anxiety and embarrassment associated with unwanted hair.
Q. What is the difference between waxing and shaving?
A.  Shaving is required frequently. Waxing removes the hair by the root, extending the re-growth period.  Waxing can cause the hair to grow back thinner, softer finer and lighter over time. Typically waxing can be repeated in three to four weeks.  This is individual to the client.
Q. What is the difference between waxing and depilatories?
A.  With depilatories, the hair is not removed to the same depth as it is with waxing. This type of treatment needs to be repeated more often, as the hair will grow back soon. When used on sensitive skin, the chemicals in depilatories can be very harsh and irritating.
Q. Should I shave between waxing sessions?
A.  No. I do not recommend shaving between waxing sessions.
Q. How long does my hair need to be?
A.  Hair growth for waxing must be 1/4 to 1/2 an inch in length. If trimming is required, simply do that before your appointment.
Q. What can I do to prevent ingrown hair.
A.  Exfoliating with loofah or body.  Scrub in circular motion going upward away from the hair growth. Exfoliating will help prevent ingrown hairs and leaves the skin smooth. Exfoliate at least 2-3 times a week.
Q. Can I tan before waxing?
A.  Tanning either indoors or outdoors is not recommended within 24 hours of waxing.
Q. What about home care maintenance?
A.  I recommend that you wash the waxed area.  Be sure to use cool water and apply moisturizer on a daily basis.  Exfoliating three times a week helps to prevent ingrown hairs.
IMPORTANT:
If you are  using any of the following prescription medications, you cannot receive a waxing service. You must discontinue use of these medications for a minimum of three (3) months prior to waxing. The exception is Accutane; you must be off this medication treatment course a minimum of one (1) year prior to waxing.
Accutane (Acne medication)
Adapalene (Acne medication)
Alustra (Retin A)
Avage (See Tazorac – Acne medication)
Avita (See Retin A)
Clindamycin
Differin (Acne medication)
Doxycycline
Erythromycin
Isotretinoin (See Accutane)
Madifloxicine
Metronidazole
Minocycline
Renova (See Retin A)
Tazarac (Acne medication)
Tazarotene (See Tazorac)
Tetracycline
Tretinoin (See Retin A)
IMPORTANT:
Please let me know if you are  using any of the following.  These products  make the skin more sensitive. Thin, sensitive skin is more vulnerable to lifting and sensitivity during waxing.
Other Acne medications not listed above
Alpha Hydroxy Acids (Glycolic, Lactic)
Oral Antibiotics
Topical Antibiotics
Retinol
Salicylic Acid
Exfoliants
PRECAUTIONS & CONSIDERATIONS
Sunburned or irritated areas cannot be waxed.
Moles cannot be waxed.
You must wait a minimum of seven (7) days before waxing after a light chemical peel or microdermabrasion.
Waxing cannot be performed if you have had laser skin resurfacing within the past year.
Waxing cannot be performed if you have had a physician administered peel within the past two (2) years.
If irritation should occur, we recommend you use an antibiotic ointment such as Neosporin to keep the area continually moist to avoid infection and scabbing.
No sun or tanning for 12 hours following a waxing treatment.
No hot baths for 24 hours following a waxing treatment.
No salt scrubs for 24 hours following a waxing treatment.
No deodorants for 24 hours following an underarm waxing treatment.
Women may experience extra sensitivity to waxing up to a week prior to the beginning of their menses.
---
I "hair'd" you were on Facebook & Twitter…me too!
---