I had a fan post on my facebook page that she uses false eyelashes.  The fan posted that she didn't understand why anyone would get eyelash extensions because she could do her own at home.  So, let's talk about Eyelash Extensions vs False Eyelashes.
Eyelash Extensions vs False Eyelashes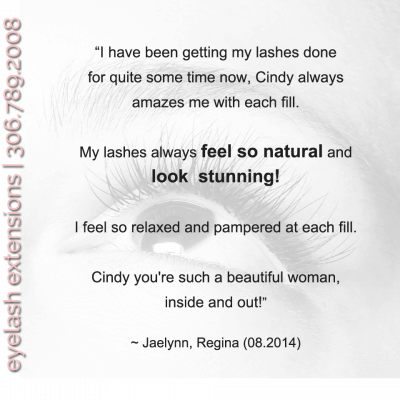 Once you have had semi permanent eyelash extensions you realize that there is no comparison between strip lashes and eyelash extensions.   Eyelash extensions LOOK and FEEL like your own lashes and can last for up to 2 months.  With regular fills you can have  Eyelash Extensions every day for as long as you like.
Eyelash Extensions
A certified and trained Eyelash Extensions Technician will need 90 to 120 minutes to apply a full set of eyelash extensions. Most clients fall asleep because the service is so relaxing.
Eyelash Extensions shed with your natural lash.
Each synthetic eyelash is applied to each individual natural lash.
Eyelash Extensions look and feel  like your own eyelash.
Eyelash Extensions are customized for your eye.  They are almost weightless and soft to the touch.
An extension of your eyelash.
A medical grade adhesive is used. There is no formaldehyde and no latex.
Neither the synthetic lash or adhesive  touch the skin.
You can shower, swim and sweat.
Traditional False Eyelashes:
Traditional false eyelashes should not be confused with Eyelash Extensions.  These lashes are usually applied at home and usually for a a single event.
False Eyelashes last only a few days,.
Strip lashes must be removed carefully to avoid damage to the natural eyelash.
Lashes are applied directly to the eyelid.
The adhesive can be uncomfortable on the eyelid.
The adhesive can cause natural lashes to fall out prematurely.
The removal of false eyelashes can cause  natural lashes to fall out prematurely.
Can look unnatural.
Can feel heavy.
If you have any questions about Eyelash Extensions vs False Eyelashes, don't hesitate to call.  I look forward to working with you.
Cindy Grainger (306) 789.2008
Certified:  Lavish Lashes, JB Lashes, Volume Lashes 2014

4x Certified Lash Artist located in Regina, Sk.
Certified: Lavish Lashes, JB Lashes, Volume Lashes.
Specializing in Eyelash Extensions Regina | Lash Artistry

Latest posts by Cindy Grainger (see all)