Before you invest in
Eyelash Extensions
you want to know,
How Long Do Eyelash Extensions last?
  This is a common question that new clients in Regina ask before they book an appointment for Eyelash Extensions.

The average cycle of a single lash is about 90 days.  Factors such as your eyelash characteristics, lifestyle, and general care of your lashes will affect How long your Eyelash Extensions  last.
In the picture above you can see that each individual eyelash extension is attached to a natural eyelash.  The extension stays attached to your natural eyelash until it sheds.  I want to repeat that.
The eyelash extension stays attached to your natural lash until the natural lash sheds.
Natural eyelashes grow and shed.
With Eyelash Extensions your natural eyelashes continue to grow, move and shed.  When your natural lash sheds the extension that I have applied to that lash will fall out with your natural lash.   When you have eyelash extensions you will find a natural lash attached to the fallen or shed eyelash.  That's good!  It means your eyelash extensions are staying on your natural lash until the lash sheds.
Before eyelash extensions, you shed 1 to 5 natural eyelashes per day.  After eyelash extensions, your lashes continue to grow and shed.  When you wake up in the morning and notice an eyelash has fallen out it can be a little unsettling.  It's important for you to realize that this is a normal process.  When a natural eyelash sheds, the attached eyelash extension goes with it.
This is important.  Extensions should fall off with the natural lash they are attached to.     This confirms that  your extensions have been applied properly.
How long do eyelash extensions last?
Technically extensions can last up to 6 weeks.  In a perfect world your natural lashes would never shed. That however would not be normal.  Each eyelash extension is attached to a natural lash.  Eyelash extensions can not look as beautiful on week 6 as they did on day 1.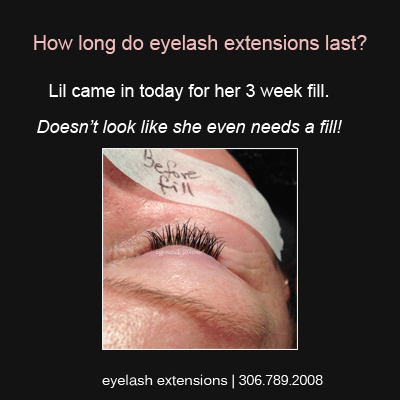 This is a picture of Lil M. from Regina, Saskatchewan.  The picture on the far left is 3 weeks after her last fill.  Her eyelash extensions still look amazing considering she was outside with her horses in the freezing cold.
Because Lil, loves her eyelash extensions so much she comes in every 3 weeks to have them touched up or filled.   They will always look full and luscious!
How do I keep my eyelash extensions looking beautiful?
I recommend that you have your lashes refreshed, touched up or filled every 2-3 weeks. I add new extensions at each touch up appointment.  When you have regular touch ups you should never need to invest in a full set of eyelashes again.
How do you care for your eyelash extensions? Check out this post:  Eyelash Extensions Care
Eyelash Extension Fill – 2 or 3 weeks?
I have many clients asking if they should have their lashes filled at 2 or 3 weeks.  This really depends on a few things.
How quickly do your natural eyelashes grow and shed?
How you care for your eyelash extensions.
How full do you want your eyelashes to be all the time.
I see the majority of my clients at 3 weeks.  Most of my clients have lashes that have average growth and don't wear a ton of eye makeup.  Plus they keep their eyelashes very clean on a daily basis.
If your lashes grow and shed quickly and/or you wear a lot of eye makeup daily you may choose to come in every 2 weeks.
A 2-3 week eyelash fill is 60 minutes, minimum. A 3-4 week fill is 75 minutes.
Do you have any customer reviews?
I love receiving feedback and testimonials from my clients. If you would like to see some of the reviews I have received  Click here or watch the video below.
How do I book a appointment for eyelash extensions?
Be sure to stop by my facebook page.
What do eyelash extensions look like before a fill.
These are untouched photos of my clients lashes right before their 3 week eyelash fill.

4x Certified Lash Artist located in Regina, Sk.
Certified: Lavish Lashes, JB Lashes, Volume Lashes.
Specializing in Eyelash Extensions Regina | Lash Artistry

Latest posts by Cindy Grainger (see all)